PRODUCT SPECIFICATIONS
Product Name: ASFV major capsid protein P72 (C-Strep Tag)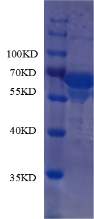 Description: A DNA sequence encoding the major capsid protein P72 of African swine fever virus (ASFV) was expressed with Strep tag at the C-terminus.
Catalog #: Lot #: 2020110301
Source: SF9 Insect cell
Format: Purified, Liquid
Concentration: 2mg/ml
Purity: ≥95% (SDS-PAGE)
Product Buffer: PBS, pH7.4
Preservative: None
Applications: Suitable for use in immunoassays. Each laboratory should determine an optimum working titer for use in its particular applications.
Storage: Store at -20°C to -80°C. Avoid multiple freeze/thaw cycles.
Expiry Date: 20211102
Indirect ELISA Sensitivity (1ug/ml coating Ag):
| | | | |
| --- | --- | --- | --- |
| | P72 | P54 | P30 |
| 1:100 | 2.92 | 2.72 | 2.82 |
| 1:1000 | 2.77 | 2.05 | 2.13 |
| 1:2000 | 2.49 | 1.82 | 1.89 |
| 1:4000 | 2.25 | 1.18 | 1.25 |
| 1:8000 | 1.84 | 0.72 | 0.82 |
| 1:16000 | 1.25 | 0.38 | 0.49 |
| Negative Serum | 0.079 | 0.065 | 0.071 |
Sample Test:
Test Method

P72

P54

P30

Positive rate

Negative rate

Positive rate

Negative rate

Positive rate

Negative rate

Indirect ELISA

28%

(34/121)

72%

(87/121)

20.7%

(25/121)

79.3%

(96/121)

25.6%

(31/121)

74.4%

(90/121)
Note: Centrifuge before opening to ensure complete recovery of vial contents
FOR RESEARCH OR FURTHER MANUFACTURING USE ONLY